Imperial Pacific Limited

is an Australian Stock Exchange listed company which traces its origins back to 1936.

Imperial Pacific participates in the investment and financial services sector through wholly owned and partly owned affiliates.

Imperial Pacific operates through both its own team of personnel and a range of external industry experienced experts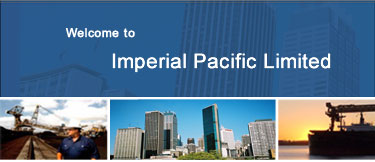 Our Vision

We seek to build shareholder wealth by careful, conservative, strategic investing in companies which hold strong industry positions and are managed by quality people.
Imperial Pacific Limited
Suite 212, Level 2
111 Harrington Street
The Rocks NSW 2000
Tel: 02 9247 9315
RECENT ANNUAL REPORTS

2018 Annual Report
2019 Annual Report
2020 Annual Report